We recently hosted The UX Crunch at our offices.
The UX Crunch is a meet up for User Experience people to network and improve their knowledge of the field. They hold monthly UX events in collaboration with leading companies in the UK, showcasing UX case studies and knowledge. They are not tied to one individual company so each event is totally different with new guest speakers for each.
YOOX NET-A-PORTER Group gave two of the three talks:
Design Systems in Production

Designing in systems is nothing new, but translating the principles surrounding these systems into a production environment is difficult, and comes with a complex set of problems. I'll walk through a case study of how we at NET-A-PORTER have transferred our design system into a large-scale production environment, talking about the benefits that have arisen.
David Boddy, Principal Designer and Robin Glen, Senior Developer – YOOX NET-A-PORTER Group
Slides
Understanding your users – how to get meaningful insight

Most UX teams insist they focus on the customer, and yet I've often seen teams working in ways that are not consistent with that assertion. In reality, research undertaken can be superficial, and design decisions often fail to consider the full impact on customers. I will talk about how to avoid some of the common pitfalls with research that lead to misleading outcomes, thus enabling UX teams to work in a truly customer-centric manner.
Liz Lesemann, Lead Customer Researcher – YOOX NET-A-PORTER Group
Slides
Finally we had an incredibly inspirational talk from Georgios Maninis of Wayfindr.
Wayfindr is the first open standard for audio-based navigation.

There are an estimated 285 million vision-impaired people worldwide. Sadly, the consequences of sight loss are often poverty, isolation and depression. Of the estimated two million people living with sight loss in the UK, almost half say they would like to leave their home more often.

Overcoming these challenges starts with enabling independent travel, which catalyses both individual and societal change.
Georgios explained how they moved on from building a single wayfinding application to creating an open wayfinding standard that any application can use to help visually impaired people navigate their surroundings.
The Open Standard for Audio-based Wayfinding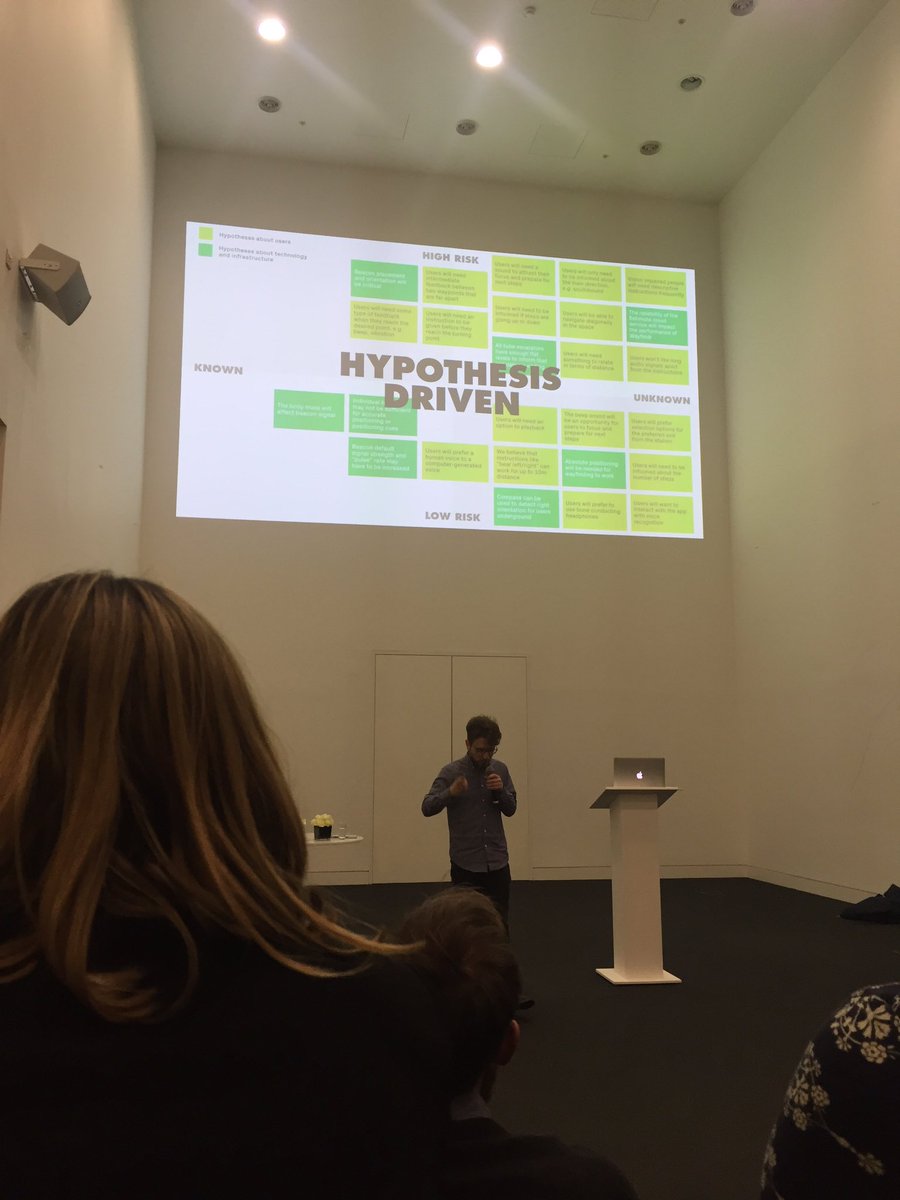 I will walk you through my team's journey of continuous learning, from initial design research and pilots at London Underground stations, to the upcoming release of the Wayfindr Open Standard for audio-based wayfinding.
Georgios Maninis, Product designer – Wayfindr
We would like to thank The UX Crunch, Georgios and everyone who attended for a great evening.